Herman Brood day 3 MAVO Thorbecke School Community
Posted September 28 2022, door: Emily Schaapman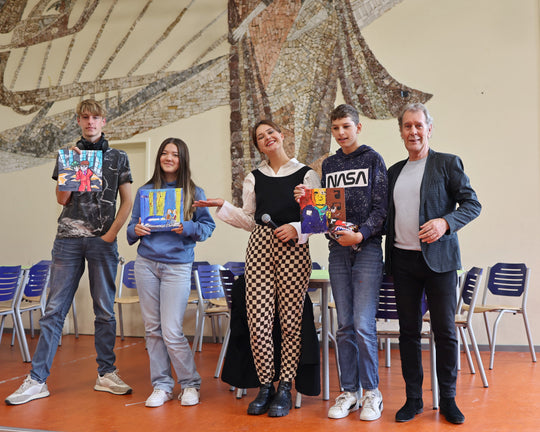 On Thursday, September 22, there was the second CKV day for 3MAVO in this academic year: The "Herman Brood Day"!                                                                 On this day the students worked in groups:
In the morning there was first a short film about Herman Brood's life as an artist and his eventual suicide.                                                                                   
Then a bicycle tour (with assignments) through the city center of Zwolle, past locations that were important to Herman Brood, ending with a tour of the Herman Brood museum by Emily Schaapman, manager of the Herman Brood museum.     
Fortunately, the weather cooperated: In the morning the sun even started shining again! Then a workshop 'Painting a la Herman Brood'.
In the afternoon the students did a research in the Media Library into the Musician Herman Brood, and at the end there was a "Q&A": (Questions & Answers).                                                                                             
Here Hans La Faille (childhood friend of and drummer in several of Herman's bands) and Emily Schaapman answered all kinds of questions from students.                           
Finally, the three most beautiful works of art from the Painting Workshop were awarded a prize.
It was another very successful day! And I would like to thank our students and all colleagues, and everyone who contributed to making this day a success: Thank you very much!
Martin Uiterwaal, teacher at CKV Thorbecke