''Herman Brood'' in Tatttoo Courant 2007
Posted April 07 2021, door: Emily Schaapman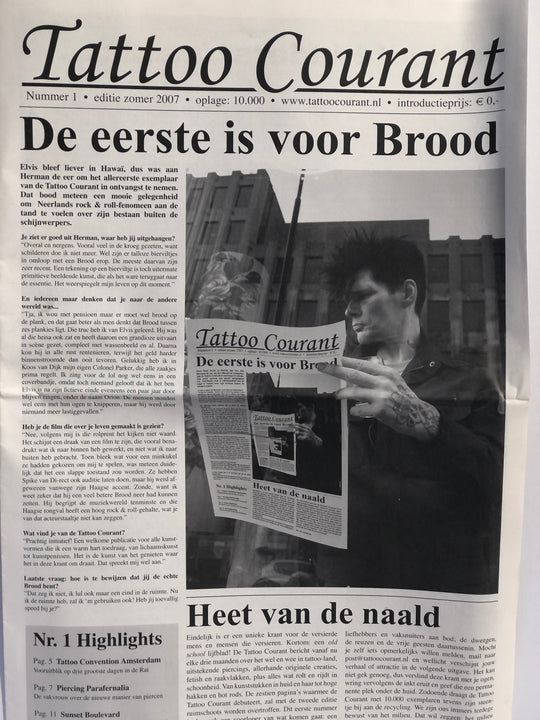 Thanks to J. Feenstra! 
The first is for Bread
Elvis preferred to stay in Hawaii, so Herman had the honor of receiving the very first copy of the Tattoo Courant. That immediately offered a great opportunity to question the Dutch rock & roll phenomenon about his existence outside the spotlight. 
You look good Herman, where have you been?
''All over the place. I spent a lot of time in the pub, because I don't paint anymore. However, there are countless beer coasters in circulation with a Bread on it. Most of these are very recent. A drawing on a beermat is extremely primitive visual art, which, as it were, goes back to the essence. It reflects my life right now."
And everyone just thinks you went to the other world....
''Well, I wanted to retire, but there has to be bread on the shelf, that works better if people think that bread is between six shelves. I learned that trick from Elvis. He was tired of all the fuss and staged a grand funeral, complete with wax figure and all. Afterwards he could retire in peace, while the money flowed in faster than ever before. Fortunately, I have my own Colonel Parker in Koos van Dijk, who takes care of all matters very well. I sometimes sing in a cover band for fun, because no one believes it's me. Elvis also continued to sing for a few years after his fictional end, under the name Orion. People blinked, but no one bothered him anymore."
Have you seen the movie that was made about your life?
''No, in my opinion that movie is not worth watching. It seems to be a hell of a film, which mainly emphasizes what I have brought in, and not what I have brought out. When it became clear what a minx they had chosen to play me, it was immediately clear that it would be a weak situation. They also let Spike from Di-rect audition, but he was rejected because of his Hague accent. A shame, because I'm sure he could have produced a much better Bread. At least he understands the music world and that Hague accent has a high rock & roll quality, which you cannot say about that actor's language."
What do you think of the Tattoo Courant?
''Wonderful initiative! A welcome publication for all art forms that I care about, from body art to artificial penises. The art of enjoyment is what this newspaper is all about. That appeals to me."
Last question: how can you prove that you are the real Brood?
''I'm not saying that, I'm just rambling into space. Now that I have the space, I'll use it too! Do you happen to have any speed with you?"