Johan Derksen standing in the gap for the Herman Brood Museum
Posted January 07 2021, door: Emily Schaapman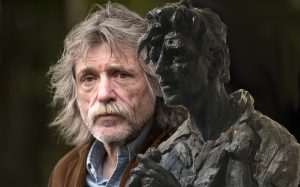 Johan Derksen standing in the gap for the Herman Brood Museum
Johan Derksen is committed to the realization of a Herman Brood Museum in Zwolle. On Sunday afternoon, Derksen will present a benefit concert under the name Let's Go go for the Herman Brood Museum.
We are going to hold a benefit concert to recruit friends for the Herman Brood Museum, so that this private initiative can run financially in a healthy manner. This is impossible without support from the Zwolle community and the business community," Derksen said in front of the ANP camera.
"For a provincial city like Zwolle, the Herman Brood Museum is an enormous enrichment. Herman Brood is a child of the city of Zwolle. And it would be crazy for words if the Herman Brood Museum were to appear in Amsterdam. The Herman Brood Museum belongs in Zwolle. He is the only rock 'n' roll idol the Netherlands has ever had. Everyone loved Herman Brood. He was also a gifted artist. You had to have it on the wall. At the time, I also bought a painting for a fortune that Herman worked on for five minutes, I think."
For the benefit concert in the Odeon theater, Derksen has brought together musicians who have worked with Herman, including saxophonist Bertus Borgers, guitarist Erwin Java and drummer Hans la Faille.
LINK Telegraph