Still Believe: the story of Sweet d'Buster
Posted June 24 2021, door: Emily Schaapman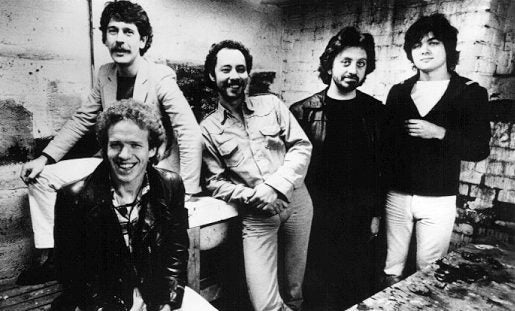 A music documentary about the Netherlands' first real supergroup Sweet d'Buster.
There is a short time in which both Bertus Borgers (ex Albert Show) and Robert Jan Stips (ex Supersister) are part of The Golden Earring. 
When this period comes to an end, Borgers and Stips decide to continue together. The first result of the collaboration is the album Nevergreens (1975), released under the name Stars & Stips.
A little later, Stips and Borgers start a new band with the former rhythm section of Cuby +Blizzards, Hans la Faille and Herman Deinum, supplemented by guitarist Paul Smeenk. The name of the band will be Sweet d'Buster.
In 1977 the debut album of what is actually the first Dutch supergroup was released. The album named after the band is an artistic, but unfortunately not commercial success. 
Live against that, Sweet d'Buster goes like a rocket. The 'Allstar Band' attracts full houses throughout the country. 
Sweet d'Buster album #2, Friction (1978) is a hit. The occupation is unchanged. 
Friction contains Still Believe, a song that has become a Dutch pop classic both in its original version and in the (live) cover by Herman Brood (ex C+B). Bertus Borgers also plays on Brood's version (Cha Cha 1979). Herman rightly gives Bertus a grand introduction. ''Featuring Bertus Borgers!'' 
The fact that Sweet d'Buster's reputation as a great live band is deserved can be heard on the Gigs album (1979). It becomes the band's best-selling album. 
Unfortunately, the hoped-for success abroad did not materialize, and Robert Jan Stips and Hans la Faille decided to leave the band.
However, Sweet d'Buster does not give up and makes a new start with Pierre van der Linden (ex Focus) on drums and Jons Pistoor (ex Neerlands Hoop) on keyboards. With the line-up the band leaves for the U.S. to record the album Into The Blue (1979(). Little goes according to plan. The first mix is ​​rejected and most of Van der Linden's drum parts are re-recorded by Leon Klaase (ex Powerplay). 
The album is therefore not a success. Illusions poorer, experiences richer, Sweet d'Buster calls it a day. It is the end of one of the most underrated bands in Dutch pop history.
But not for much longer!
In 2019, Hans la Faille released the album Still Believe, an ode to his childhood friends and Cuby buddy Herman Brood and the half-forgotten Sweet d'Buster.
A year later, Universal released a CD in the series: 'The Golden Years Of Dutch Pop Music' with almost the complete collected work of Bertus Borgers and Sweet d'Buster. 
Another sign that the band is still alive or alive again is the number of plays of Still Believe on Spotify, which is slowly approaching 250,000. The cover of Brood is over a million. The number of listeners that Sweet d'Buster attracts every month is a generous 3000. 
Thank you, 
Bertus Borgers 
Robert Jan Stips
Hans la Faille
Herman Deinum
Paul Smeenk 
Arnold Bogaart †
Jons Pistoor
Pierre van der Linden
Leon Klaasse
Go to Link
Danny Lademacher
Johan Derksen
Ralph de Jongh 
Erwin Java
Ivo de Lange
Rinus Gerritsen
Cesar Zuiderwijk
Herman Wolters
Feico Nijdam 
And all employees of: Ariola/Bubble, Rock Academy, Rotterdam Conservatory, Herman Brood Museum and the Borgers family.